Guidelines for Volunteers and Interns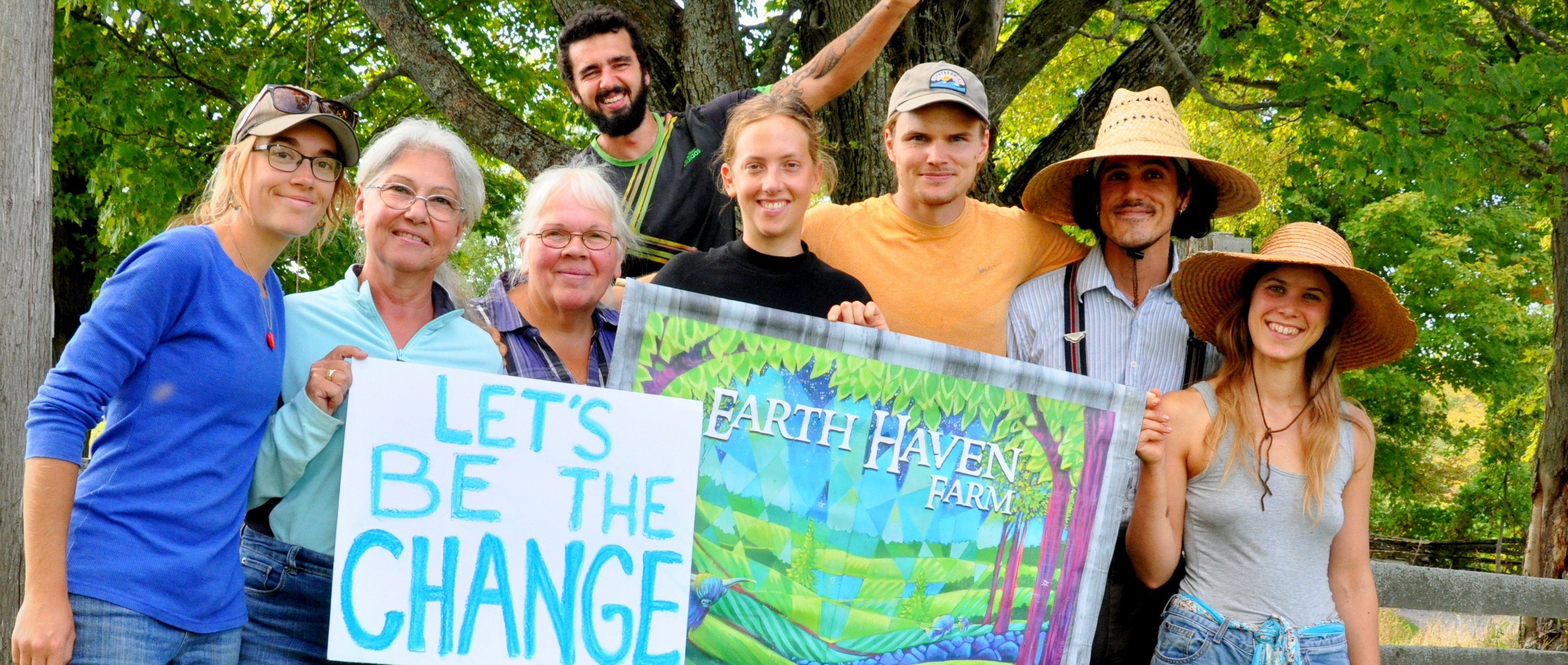 Earth Haven Farm will be offering hands on experience from start to finish throughout the the growing season. Experience will be your best teacher and will stay with you for life.
For the health and well-being of ourselves, our animals and visitors to the farm, we would appreciate if you did not smoke. All buildings are designated as non-smoking.
Duties will include preparing greenhouse, seed starting, preparing field beds and planting seeds and seedlings from greenhouse, weeding, watering, picking and cleaning produce for market.
Hard working, honest and integral workers is what we are looking for in our helpers.
For those who are into more physical labor there is a constant job of split-rail fence building and repairs, maintenance of electrical fences, clearing brush from the lines.
June through September is haying season and you will be expected to help out with the stacking of the small square bales of hay.
As winter approaches later in the year, you will assist in stacking wood and helping with wood chipping.
For those of you who are interested in learning more about our biodynamic agricultural practices and the use and application of preps and homeopathic treatments of plants, we use all these methods as needed throughout the season.
To get the most out of your experience, a season's stay will give you the full picture, and may provide you with vital learning opportunities you may otherwise miss!

Click Here
to take a look at some of the activities that some of our past farm helpers and visitors have partaken in:
---
Accommodations: You will be provided with a bed and clean sheets. You will be responsible for your own laundry.
Food & Meals: basic food will be provided for you. Please check in with us on any special dietary requirements. You will be expected to prepare your own breakfast. Lunch and dinner are usually a joint effort and you will be expected to help clean up in the kitchen, wash dishes, etc.
Appliances: We live off-grid, therefore there is no air conditioning, no dishwasher, no microwave.
Communications: WI-FI is available but limited to the farmhouse. Cell phone service is available but can be limited from time to time due to our remote location and given weather conditions.
Transportation: We are located north of Belleville in Eastern Ontario. There is no public transit available. Having your own transportation would be an asset.
Income: General farm help, occasional work and WWOOF'ers are all non-paid positions. Extra income can be earned by taking on your own farmers market(s). We have the capacity to grow a lot of food.
---
This is a non-smoking farm. You must be legal to live and work in Canada. Have a valid Health Card. Good working references are required, preferably from previous farm work. Interview in person at our farm or by Skype is required.
---
What you should bring: hat, work gloves, safety boots with steel toes, rubber boots, rain suit, bathing suit, and a wide variety of cloths to suit all kinds of weather conditions.
What NOT to bring: hair dryers, heaters & electrical appliances.
---
Caution: if you have any allergies to certain foods, animals, bees, insects, black flies, mosquitos, poison ivy or other plants - please make serious considerations before applying.
---
All persons wishing to join Earth Haven Farm as a seasonal will be required to sign an agreement form, which will be sent to you for review and signature.
Contact Us to inquire about helping out on the farm.